Special Feature: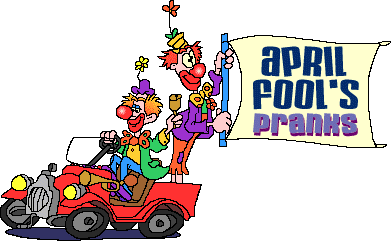 In order to make it through April Fools Day with your pride and dignity intact, you'll have to learn how to strike first.
This range of freebies will provide you with just the tools and insight you'll need in order to become a one-person prankster machine this April 1st.
News of the Weird proves that truth can be funnier than fiction. This is an archive of printed news articles from around the world that have to be seen to be believed!
ComputerPranks.com features a huge range of jokes, pranks, hilarious greeting cards and other wacky goodies! Many of these are downloadable, installable pranks that aim to give computer users in your home or office a fun little scare on the morning of April 1.
The Frumious Bandersnatch puts together a tailor-made April Fools Edition of their satirical paper each year. Check out this year's range of stories that we wish were true.
Keith Lynch has been campaigning for free speech on the Net since before it was fashionable - and he's sent a large quantity of April Fools Day prank messages during that time. They're a great source of inspiration for your own scheming. He presents them here in simple, text-only format, making it easy for you to dig through his content without being interrupted by ads or slow-loading web graphics.
The Onion is a riotous satirical online paper that is constantly packed to the brim (and then some) with stories, articles and statistical reports that could all pass as April Fools Day jokes. It's like massaging your brain while having you feet tickled.
RJL Software has created an impressive range of April Fool's Day Software titles that are bound to drive your friends and co-workers crazy! Amongst the titles are Fake Format, Random Wallpaper Changer, Open/Close CD, Program/WAV Launcher, Blue Screen of Death and Headache. Download them individually for free.

Stay tuned...there will be many more April Fools Day goodies and free prank sources added to this page until the day of reckoning!