Special Feature: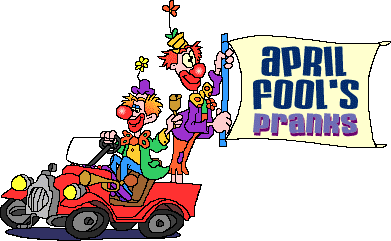 In order to make it through April Fools Day with your pride and dignity intact, you'll have to learn how to strike first.
This range of freebies will provide you with just the tools and insight you'll need in order to become a one-person prankster machine this April 1st.
Bullet Hole Stickers are being given away on this site to satisfy the sadistic cravings of those foolers who happen to live within the United States.
Chuck Shepherd's News of the Weird proves that truth can be funnier than fiction. This is an archive of printed news articles from around the world that have to be seen to be believed!
ComputerPranks.com features a huge range of jokes, pranks, hilarious greeting cards and other wacky goodies!
CrazyMouse causes a mouse cursor to come down with a bad case of 'the shakes'. Also, when any of the mouse buttons are clicked, a Windows-style message box pops up and dishes out one of more than 30 random insults.
The Frumious Bandersnatch puts together a tailor-made April Fools Edition of their satirical paper each year. Check out this year's range of stories that we wish were true.
FunnyPrizes is home to heaps of free gag offers. Earn points by telling your friends about the website, then redeem those points for gag gifts such as phoney vomit, hot pepper gum, belch powder and hill billy teeth.
FunnyReign.com is giving away 2 free fake 'scratch-n-win' tickets to would-be foolers this year. This offer continues beyond April Fool's Day, but is available only to US residents aged 18 and over.
FunnyReign.com are also distributing free fake million dollar bills to any US resident willing to fill out their brief contact form.
Game of the Century is an absoutely heart-stopping (bordering on cruel) prank program. Once it is run, it displays a realistic Windows-style box that displays the contents of C:, and asks whether you'd like to delete its contents. No matter your response, it will begin its fake 'deletion' sequence, and will conclude with a pop-up error window mentioning that Windows cannot find any system files and must shut down. Then, right at the moment when your 'friend' is bordering on seizure, the program reveals that the whole thing was just a joke. Note: use only on people with a great sense of humor (and a hardy constitution) ;-P.
Keith Lynch has been campaigning for free speech on the Net since before it was fashionable - and he's sent a large quantity of April Fools Day prank messages during that time. They're a great source of inspiration for your own scheming.
The Onion is a riotous satirical online paper that is constantly packed to the brim (and then some) with stories, articles and statistical reports that could all pass as April Fools Day jokes. It's like massaging your brain while having you feet tickled.
Prank You Very Much is a collection of innovative prank ideas brought to you by the lovable folks down at Hecklers.com. While you're at it, check out their recent Interactive Top Ten feature, Top Ten Ways To Tell Your Neighbor Has Something Big Planned For April Fool's Day.
Random Burper plays a series of burping sounds at random intervals on the computer on which it is intalled. The program's stroke of genius is in the fact that it automatically turns the user's volume up to the max before the burp, and back down afterward. Difficult detection and makes the program a sure-fire embarrassment for your unwitting victim!
RJL Software has created an impressive range of April Fool's Day Software titles that are bound to drive your friends and co-workers crazy! Amongst the titles are Fake Format, Random Wallpaper Changer, Open/Close CD, Program/WAV Launcher and Headache. Download them individually for free, or order their custom CD for a small fee.
Salon Magazine brought us this irreverent Microsoft story back in 1998 (April 1st, of course), but it still brings a scathing chuckle of relevance today as a result of the the near conclusion of Microsoft's long-fought battle with the DoJ.
Shennanigans features a collection of classic prank posts made to the alt.shennanigans newsgroup over the years.
Whoopee Cushion - Yup, that's right. The Grand-daddy of all prank tools is presently being given away for free by the folks over at FunnyReign.com. US residents may simply fill out a brief form to request theirs.
Zug Bugs is a collection of three playful virus-like programs that you can place on your friends' computers in order to wreak a little harmless havok. Titles include The Mother (which unexpectedly pops up windows filled with pieces of nagging motherly advice) and Digital Whoopie Cushion (which causes your friend's computer to randomly emit a variety of bodily noises). hehe ;-P
Want even more? Then check out:
World's Top 100 Fun Pages

Stay tuned...there will be many more April Fools Day goodies and free prank sources added to this page until the day of reckoning!