Special Feature: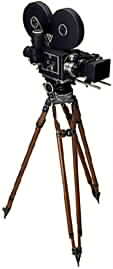 It's that time of year again, when the world watches movies with an increasingly critical view as the year's best films (according to some) are sized up at the Annual Academy Awards®. Whether you love or loath the ceremony, the fact remains that the Oscars (and, of course, the post-Oscar parties) consistently prove to be one of the best spectacles of the year.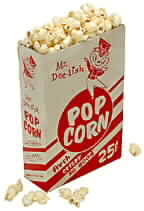 In order to celebrate, we've gathered together a range of movie-related freebies for you to enjoy. From posters to Streaming Online Video (one of our new categories), we've got more coverage than many of the gowns that will be strutted at the awards ceremony this year.
afilmcinado.net is an aesthetically dynamic, through presently small, online showcase of independent films.
American Movie Classics has an extra special treat in store for the many avid Academy Awards fashion-watchers (you know who you are!). Enter their sweepstakes for a chance to win a re-creation, in your size, of an Award-night gown of your choice. On top of this, you'll also be given a five-night stay in New York, complete with $1500 spending money to put you in the swing of things. I hate to imagine how the dress would shape up by the end of the trip ;-D
AtomFilms is a superbly presented showcase of internationally-acclaimed short films presented in Flash and RealPlayer format. Their collection includes some of this year's Oscar-nominated shorts, as well as a dose of scathing satire in the form of The Critic.
Atom-Bomb.Com provides an unconventional outlet for unconventional media content, with film, television and animation sections. From student experimental shorts to full length exploitation features, Atom-Bomb is proud to present something refreshingly different.
AWZ.com has released an Oscar center filled with reviews of nominated films, interactive forums and star profiles. They're also currently running a contest in which you are asked to vote for which pictures and talent you feel will win awards this year. One winner will walk away with an MP3 player, while 50 runners up will each be awarded an AWZ t-shirt.
Bijou Cafe hosts a selection of feature films, short films, animated works and episodic journeys - all streaming - all available online - all free! (and isn't that what we're all looking for from life?)
The Bit Screen represents the initial stirrings of a media revolution. Presenting four ever-changing short films from its screening room, The Bit Screen may seem like any streaming video provider. Where they differ from the others, however, is in the fact that their content is created exclusively for the Web, and for this site in particular. As such, the films appearing on the site benefit from the advantages of the Web. That is, they are often re-cut by their creators in order to provide varying experiences, and they are written, shot and post-produced with the limitations of modem delivery in mind, so they feature strong scripts rather than a total dependence on flashy visuals.
Broadcast.com is, at present, the world's biggest online provider of free streaming video content. With categories including film, sports, documentary, education and television, as well as a broadband channel for those lucky enough to possess a fast cable connection, Broadcast.com satisfies all tastes.
Camp GottaChat has initiated a program that breaks all the trules regarding cinema participation by encouraging its users to chat with each other while watching their extensive range of RealPlayer streaming video content.
CinemaBrazil celebrates the Brazilian national cinema by presenting a range of films, trailers and behind-the-scene footage relating to movies made on their exotic land.
Film.com Vault presents hundreds of streaming film trailers for both soon-to-be-released and classic films. Their Studio 24 section also features interviews with significant figures in the film industry. (NOTE: This is viewed directly through your RealPlayer browser)
FreeMovieMayhem is giving you a free $20 Voucher for a DVD or VHS purchase, free movie tickets, or free movie rentals. If you love movies, here is your chance to watch them for free! Great deal.
GruntLand is, for a limited time, providing a selection of MP3 downloads from 30 Odd Foot of Grunts, featuring lead vocals by the one-and-only Russell Crowe.
iFilm supports indie filmmakers by providing them with global distribution for their film over the Net. Consequently, it also provides entertainment and sensory stimulation for other Web surfers, who would like to kick back and observe an original creative vision unfold before their eyes.
Oscar.com Sweepstakes is this year running a contest to give one lucky cinephile the chance to observe the red-carpet arrivals outside next year's Oscar ceremony in first-person (and that doesn't mean stereoscopic television). You'll actually be able to see some of the most famous filmmakers and screen performers of our time. Quick! Entries close 28th March. Open to US residents over the age of 21.
Oscar.com also delivers a mother-lode of official fun in their free Fun & Games section. Test your Oscar knowledge, send an Oscar greeting card or participate in various trivia challenges. Just the thing to get the anticipatory juices flowing.
The Sync presents the 'net' generation in video content. Combining one-way content, such as classic feature films and indie shorts, with interactive programs - shaped by your input, The Sync symbolises a giant leap in the convergence (shudder: seriously overused buzzword) of television and the Web.
Westerns.com is sure to be a favorite with fans of the classic frontier epic. This site presents more than 90 full-length feature films and classic television episodes in Windows Media Player format.
Win Free Posters - Enter to win a free celebrity poster. Choose from 100s of options including Britney Spears, Tom Cruise, Brad Pitt, Jennifer Lopez and more.
Stay tuned...there will be many more movie-related freebies added to this page throughout the month of March!
Note: Academy Awards® and Oscar(s)® are the trademarks and service marks of the Academy of Motion Picture Arts and Sciences. This site is neither endorsed by nor affiliated with the Academy of Motion Picture Arts and Sciences.