Special Feature:


Before you know it, it is May once more, and time for mothers around the world to receive their karmic rewards for granting the gift of physical life to each of us. The gang at the All-4-Free Freebie Tree realise the epic scale of a mother's sacrifice, and thus present our shrine to motherhood in the many gifts below.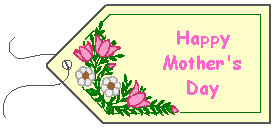 Of all the celebrations we share, Mother's Day is the one for which it is 'the thought' that counts. Material goods are great, but the best way to treat your mother is to treat your mother. A day of pampering never goes out of date. Below, we present a collection of digital postcards, gifts, contests and activities that are sure to give you a few ideas.
ALL-4-FREE Mother's Day Greetings will help you to show your Mom just how much your care this Mother's Day. Choose from four unique animated greeting cards, complete with moving background music.
Awesome Cyber Cards boast a range of six glorious animated greeting cards and close to 20 static e-cards, as well as an animated, musical, Mother of the Year award that you can speed off to your mother.
Billy Bear's Playground promises the solution that will put a smile on any mother's face this Sunday. On top of digital postcards, Billy Bear's presents children with hints, tips and tools that help them make gifts, jazz up the computer desktop with graphics mom will love and more. Their Mom Award and Promise Cards - with which children make a promise to perform a particular activity for their parent (such as doing the laundry, or granting a massage) - are a great idea, and one that will undoubtedly be well-received.
Blue Mountain Arts house a gorgeous range of musical greeting cards and mother's day poetry that you can personalise and send to your mom's email account this Sunday.
CNN Interactive has produced a free streaming video clip comprising of interviews with celebs regarding what their mother means to them. Inspirational stuff.
CPS presents a nice range of low-resolution Mom's Day clipart that you may use as you see fit. While many of the images are perhaps too 'blocky' to be used in a papar-based card, they could make effective icons or be used to form a collage-type Webpage/e-card.
DearMom.com presents a range of fun electronic gifts for mom. Electronic postcards, the ever-popular FakeMail (which sends a humorous letter or anecdote to one's matriarch) and a slew of special awards are the highlights of this site's range.
FreeBeautySamples has incredibly made available free full-sized lipsticks to all US residents who fill out their brief form. Just to sweeten the deal, postage and handling is included, so you pay absolutely nothing for this lipstick!
Holidays on the Net has created an online homage to motherhood, which includes free postcards, printable coloring books (a great gift idea), and an assortment of poems, written tributes, speeches and a history of mother's day all aimed at pampering that special lady.
I Luv You allows you to create a personalised animated greeting card in a matter of seconds.
Kid's Domain is packed with goodies for mom, including free flying hearts or blossoms screensavers, games that encourage children to pamper their parents, e-cards and gift-building tips. A great site.
Kid's Exchange features a great range of 'coupons' that children can present their mother on her special day. Each coupon entitles the mother to some sort of special treatment, whether it be breakfast in bed, a break from household duties, or simply a big (genuine) hug. This site also offers a printable 'Best Mom' certificate and a quality collection of mother's day clipart.
Love Ring Contest is a sweepstakes offering one lucky entrant a blue sapphire and diamond 'love' ring valued at $US265. This could make an ideal Mother's Day gift, or simply provide a pleasant surprise for that special someone.
LoveStories.com provides solutions for those wishing to tell their mom just how much she is loved. Visitors can post dedications to their mother, and mothers in general, on the site, as well as read previous postings. Alternatively, you may send a LoveGram direct to your mother for something a little more private.
Marvel Creations has created a tranquil celebration of the Mother's Day tradition. Poems, music, inspirational quotes and tales complement the history of the holiday at this site.
Montfoire Pens have been made available at no cost (except postage & handling) to US residents this Mother's Day. Don't pay $100 for a Montblanc pen or $50 for a Cross pen. Give your Mom an equally prestigious Montifiore pen - absolutely FREE.
Oh Baby! has created a great printable letter that features a touching poem from an unborn baby to her mother-to-be.
ParenthoodWeb offers a selection of six e-cards for mom. They have also created a forum that invites mothers to speak about what they really want for Mother's Day - could be a fruitful source of surprising ideas.
The Stock Solution is distributing a large range of professional Victorian-Era Mother's Day graphics for personal use on e-cards or paper-based gifts. Their range is expansive and impressive, featuring dozens of antique-styled images of women and flowers. Note that you must obtain permission if your desire is to place one or more of these images on a Webpage.
Stay tuned...there will be many more Mother's Day freebies added to this page throughout the month of May!