Special Feature: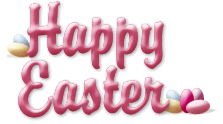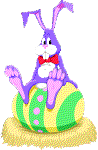 Before the Easter Bunny visits, you can stock up on great Easter-related freebies distributed by this group of fun Websites.

We've hunted down such an impressive collection of games, postcards, chocolate, craft-related goodies and contests that you'll be busy all holidays just ordering all this free stuff.
50 Easter Faves presents a round-up of the Web's most popular Easter-related sites. All sites are ranked according to the number of votes that they've sent in, ensuring that only high-quality websites will appear on the list.
ALL-4-FREE Easter Greetings gives you the opportunity to send cute animated postcards to your friends or relatives, complete with traditional background music.
Awesome Cyber Cards have organised a variety of Easter cards to suit all tastes. Customisable greeting cards, postcards and printable real-world cards are all available for free within their range.
Blue Mountain Arts allows you to send one of their appealing electronic postcards online for free. Their range includes animated and interactive cards that promise something different.
Candy Lover's invites its visitors to sign up for The Candy-Lover candy recipe newsletter to get a free 45g bag of Easter Mini Eggs.
The Cardmaster has designed a range of Easter-related digital postcards, some of which are animated.
Children's Hand Puppets teaches you how to put together child-sized Bunny and Chick hand puppets. Includes free printable patterns.
Easter CyberCardZ directs you to the best in online Easter greetings.
Easter Downloads.com presents an archive of downloadable Easter-related goodies. Includes screensavers, desktop enhancements, games, programs, music and more.
Easter Glory Screen Saver features a range of Christian-themed images and scripture extracts that appear as a slideshow while your computer is idle.
EasterHumor.com features an hilarious range of Easter-related jokes, stories, songs and comical pictures.
EasterLinks Clipart contains a huge range of Easter-related clipart and web graphics that are free for personal use. Includes everyhting from bunnies to baskets, and from bars to backgrounds.
EasterSavers.com offers a quaint collection of original Easter screensavers. Each screensaver features animated elements, eith themes ranging from the fun and irreverent through to religious respect.
Epicurious Easter Recipes dishes up a wide variety of Easter-themed recipes, divided into brunch, lunch and dinner suggestions.
SharedGreetings not only gives you the opportunity to send great Easter greetings to your friends, but they give you the chance to win prizes while doing so!
TopFreebies.com gives away totally free Reese's candy bars to all who fill out this brief form. Available the world over.
Virtual Chocolate presents an Easter freebie that is sure to get your mouth watering in anticipation of the big day of consumption. They present visitors with the ability to send virtual chocolates to each other. Resembling their real-world counterparts in appearance only, they are guaranteed calorie-free, but may do little other than encourage the purchase of real chocolate delicacies.
Woman's Day gives five lucky entrants the chance to win an Easter basket filled with collectibles from GoCollect.com. Included will be bunnies and eggs from Swarovski, Precious Moments, Christopher Radko and more, worth more than $200. US only.
Still craving for more? Then check out:
EasterLinks.com
The Web's BIGGEST directory of Easter-related websites!
Stay tuned...there will be many more Easter-related freebies added to this page throughout the month of April!